Recap of the 2014 VIP Talent Connect Networking Event at Scholastic

Another successful edition of the VIP Talent Connect Networking Event, hosted by The It Factor Productions and Alycia Kaback, took place this past Saturday, August 9, 2014 at the Scholastic Auditorium and Greenhouse in New York, N.Y.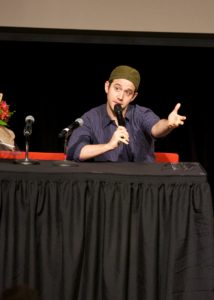 Aspiring talent from along the east coast, and even talent from across the country, attended this year's VIP Talent Connect event, where they were instantly connected to the decision-makers in the entertainment industry.
The talent got to listen to and engage in Q&As with all of the speakers, and even got to meet one-on-one with them to "pick their brains," and exchange contacts for long-term mentoring.
Of course, the event was emceed the by one and only Bill Apter, professional wrestling journalist of over 40 years, who segued the speakers with jokes and personable introductions.
Throughout the networking portion, a number of talent were signed on the spot or had digitals taken to be reviewed, and a number have set up interviews with agencies and casting directors.
This year's speakers and mentors included Santino Fontana (Prince Hans of Disney's Frozen), Teri Bostaji (Director Kids and Teens at Wilhelmina Models), Marthe Reynolds (Former VP of Island Def Jam Music Group), David Doan (Theatrical Agent at CESD Talent Agency), Dina Torre (On-Camera Agent at GenerationTV), Lindsey Drucker (Casting Assistant at Central Casting), New York Times Best Selling Author Kristine Gasbarre, James Ragan (Screenwriter for Paramount Pictures), Fuji Ruiz (Manager at IMG Worldwide), Robert Russell (Former VP of Warner Brothers Casting), and many more.
Alycia Kaback and The It Factor Productions' staff has already started planning the next VIP Talent Connect Networking Event, which will take place Saturday, April 18, 2015 at Scholastic. Are you ready to be discovered and make connections with decision makers in the entertainment industry? Sign up for an in-office evaluation, today!