25th Anniversary of Steiner Sports
Last week, some of our staff were invited to attend the 25th Anniversary                                                 party of Steiner sports in New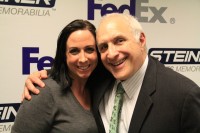 York City! Over the course of that two days, our staff got to sit down with stars like Victor Cruz, Coach Bob Knight, Otis "Oj" Anderson, and Brandon Steiner himself.  Steiner, whose empire started in a 1,000 square foot office that he shared with 3 other people, is one of the biggest names in the sports industry today. In just 25 short years, Steiner has built a multi-million dollar marketing empire, and recently signed with us here at Colby/KMM (see full story here).
Along with being able to sit down with these stars, our staff was also able to be photographed with them, to be apart of the "25th Anniversary Of Steiner Sports" video that was being filmed that day. We couldn't have been more excited to be apart of this historic day, and can't wait to be apart of many more celebrations to come!
Here is a little more on Brandon Steiner and Steiner Sports:
Brandon's biggest home run to date is Steiner Sports' aforementioned deal with the New York Yankees. This unprecedented partnership was announced in 2004, as a way to provide Yankees fans with authentic Yankees memorabilia and one-of-a-kind fantasy experiences at Yankee Stadium.
Steiner Sports followed this with similar partnerships with Notre Dame Football, Syracuse Athletics, and Madison Square Garden. Each of these partnerships bring fans closer to the games and athletes they love, through meet-and-greets, speaking appearances, signed memorabilia including game-used jerseys and equipment, and countless other products and services.
In 2008, Steiner Sports created yet another unique market, by buying the exclusive rights to the disassembled Old Yankee Stadium. Steiner created an entire, authentic Stadium product line; fans now have the once-in-a-lifetime opportunity to take home seats, signs, bricks from Monument Park, and hundreds of other unique pieces which give the old stadium new life.
Today, Steiner Sports is a company that takes in $40 million per year in revenues, and employs 100 people.
Outside the office, Brandon has become a permanent fixture in the media and is a regular on ESPN Radio 1050, along with his co-hosting duties on Yankees-Steiner: Memories of the Game, prominently featured on the YES Network.
Additionally, Brandon is frequently utilized as an expert commentator on sports and marketing on national news networks including CNBC, CNN, MSNBC, and ESPN, and in newspapers including The New York Times and The Wall Street Journal. Most recently, he made several appearances on the MLB Network while promoting the MLB Fan Cave.
Brandon was also instrumental in creating the David Falk Sports Management Program at Syracuse University and is a Founding Member. He also sits on the Board of Directors for Syracuse Athletics.
Brandon devotes most of his limited free time to several charities, including Family Services of Westchester, which helps provide quality social and mental health services to strengthen families and children. With Brandon's help, Family Services of Westchester has been able to open two group homes for teenage boys and teenage girls with no place to call home.
In 2012, Wiley & Sons published Brandon's second book, You Gotta Have Balls, which chronicles his long career, and the life and business lessons he learned therein.
Click here to view event photos!