The It Factor Gets A Taste Of "Fame"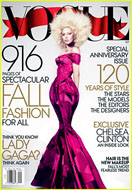 As always the offices are abuzz with all of the new and exciting things happening for us at 'It' Factor Productions. While we devote our energy to the Kaback Talent Academy™, we'll also be giving our over-all web presence a facelift. This all very exciting, and all apart of the major first steps of what's to come for the entire "It' Factor family. So stay tuned for more on that as we near closer!
We are so excited, as we gear up for "Our Christmas," which is, of course, NYC Fashion Week. We are preparing 23 of our Colby Models and 3 KMM models for Lady Gaga's fragrance launch, a futuristic fashion show, set to unveil during fashion week.
This is 'SO MAJOR.' Following Gaga's highly anticipated cover, of Vogue's September issue, launching her debut fragrance, Fame, is sure to be the event of the season. We are more than honored to be taking part in this massive achievement of hers. Monsters Put Your Paws Up!