What It Feels Like To Represent Your Mentor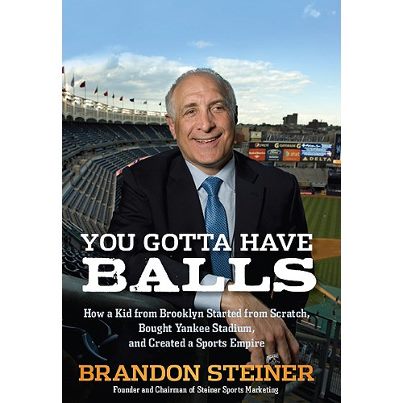 Do you have that person in your field or dream career, someone that sets the bar for what's possible? Someone who does it in such a way that it makes you say " yes, that's what I want mine to look like." Well for me, that person is Brandon Steiner. He's built one of the biggest sports marketing empires to date, and when asked how he's done it all, he says: relentless hustle, sheer determination, and above all else, willpower.
Early in his career managing The Hard Rock Café in Times Square, and one of the first popular sports bar in Nyc, He knew his future was going to leave a legacy. Although, unsure how he would do this, he kept his eyes and his ears open. While booking popular sport's figures as celebrity bartenders in the restaurants he managed, he saw a need with them needing representation and management outside of the arenas. He set out to fill this need, blazing a trail to avenues that expanded your favorite sports figures reach and brought them closer to the people that truly mattered, the fans.
Since then he's been able to leverage his sports management business into two New York times best selling books, and some of the most lucrative and partnerships in the industry to date.
Brandon works closely with fortune 500 corporations to align them with athletes who can promote their products, and he maintains relationships with hundreds of current and former professional athletes including Derek Jeter, Mariano Rivera, Eli Manning, Martin Brodeur, Mark Messier & Jeremy Lin.
Not only that, he's positioned himself as an expert in his field due to his extensive successes. These accolades have lead him to become a highly regarded sports commentator, radio personality, and overall authority in the field of sports and sports management.
Marching to the beat of his own drum, he is absolutely one of the best to ever do it. I've always respected, and looked up to what he's been able to create from just a great idea, and determination to see it through. We here at KMM are so honored to be representing someone we admire and have learned so much of business from. Bringing his story to the world through speaking engagements, and appearances epitomizes the American Dream that's possible for us all.
Alycia Kaback interviews Brandon Steiner from The It Factor Productions on Vimeo.
Kaback Talent Academy's founder Alycia Kaback talks to Brandon Steiner, CEO of Steiner Sports Marketing, about what it takes to start and run a successful business